I spend a great deal of time thinking about beauty as it relates to gender and power — and I suppose added to and sort of subsumed by that, is beauty as it relates to celebrity.
Specifically the measures that must be taken to fulfill the modern obligation of attractiveness required of our Idols, American and otherwise. That phenomenon is evidenced by the physical transformations of the contestants of the aforementioned, (see: Clay Aiken, before & after), the late Brittany Murphy's physical transformation from Clueless onward, and the Heidi Montag Morph, the trajectory of which entirely mirrored that of her "fame."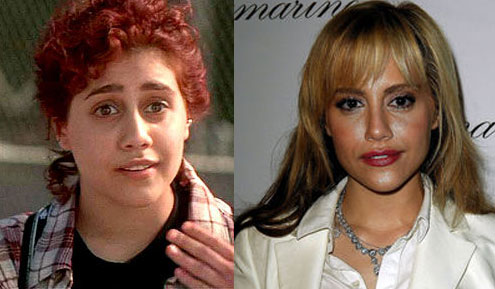 I note this after unearthing the above video. Now. Fairly famous song for the time. However, it was released at what I will argue was the very cusp of the modern-day emphasis on physical perfection. I will not pin the now relative obscurity of Timmy T on the hardest-working mustard-yellow mock turtleneck in show business, but I will point out the difference in physical…realism between his styling here, and what is expected currently.
It's not only that beautiful people become celebrities now—though many do and solely for that reason—it's that we require as a toll of our attention, that if you were not naturally "blessed," that you undertake all measures necessary to artificially comply with the standard.
And I hope that ceiling of acceptable artificiality has been hit.
After all, one of the most notorious casualties of celeb-lookism is starting to look downright refreshing.